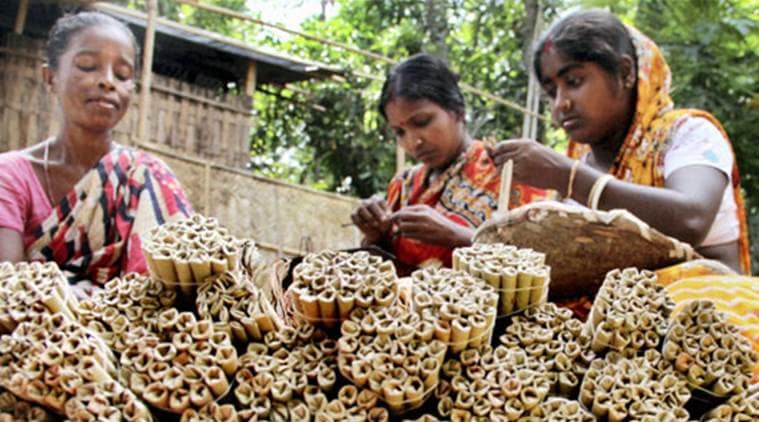 (Image for representational purposes. PTI)
Farmers' physique FAIFA Monday asked Finance Minister Arun Jaitley to strengthen interests of Indian tobacco farmers while formulating GST laws.
The Federation of All India Farmer Associations (FAIFA), a non-profit organization representing farmers opposite states such as Andhra Pradesh, Telangana, Karnataka and Gujarat, also pronounced there should not be any taste among cigarette, bidi and nipping tobacco farmers.
Last week a GST Council had authorized tobacco cess to be kept as a reduction of Rs 4,170 per 1,000 sticks or ad valorem of 290 per cent.
"GST is a once in a lifetime event for a supervision to mislay anomalies in tobacco taxation in India and move a satisfactory service to a tobacco farmers but compromising on a tobacco control goals," FAIFA General Secretary Murali Babu pronounced in a statement.
He serve pronounced a final prevalent taxation horizon took divided divided livelihoods of FCV tobacco farmers and promoted bootlegging of cigarettes that had reached shocking levels.
The high boost in a dig avocation in a past has led to expansion in bootlegging of cigarettes in a nation due to a high taxation arbitrage, FAIFA said.
"Any serve taxation boost on a already over-taxed authorised tobacco attention will usually accelerate a routine of diversion of tobacco expenditure into a unlawful and a confused tobacco sector," it said.
It will have inauspicious consequences on income collection and a tobacco control objectives of a supervision and critical implications on rancher livelihood, FAIFA added.
For all a latest India News, download Indian Express App now